After smashing it on Kickstarter in 2021 with WeeStand (2800% overfund), Noisy Clan selected Mabinogi once again to make the Kickstarter crowdfunding videos for their follow up product launch Grand Stand in the Summer of 2022.
Whereas WeeStand announced itself with a suite of cheeky attention grabbing Kickstarter videos for musicians on the go, the Grand Stand was aimed at a much higher price point and refined user case.  Check out the Kickstarter Video Campaign by clicking here!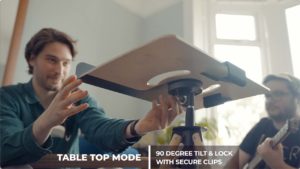 The amazing Grand Stand's USP was the fact that it was specifically designed by musicians for musicians using the feedback from the 1500+ WeeStand customers. The result was an elegant and versatile music stand with interchangeable plates that was made for the way modern musicians live and play.
The key to a great Kickstarter Campaign is more than just a 'Hero or Pitch Video'.
It is a collection of videos, short and long. catchy, classy  and instructional that create the most value by funnelling clients from several different channels – Insta, Facebook, Twitter, Traditional PR.
That is why for Grand Stand we didn't just make 1 video… BUT 14 Videos & 1 Instructional Video! 
The main Kickstarter video covered all the best features, testimonials and of course creators pitch.
But the supporting videos then took user specific use cases to feature each addressable market: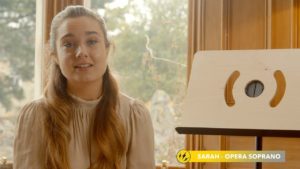 Guitar Players – Tilt and Lock for Laptops
Opera Singers – Full height for proper airway and stability
Horn Players – Full height
Teachers & Students – iPads and Zoom Lessons
Piano Players & Singalongs – Overtilt and Standing Singers
Desktop mode – Students
Handstand mode – DJ's and Electronic Musicians
Having alternate versions and a host of short snappy socials allows marketing teams to A/B test as well as constantly keep content fresh.
This leads to more sharing. More reach. And ultimately more sales!
Anyone can just show up and shoot your Kickstarter Video. But we here at Mabinogi Productions offer much, much more. We offer decades of experience. A customer / sales focused approach. And live by the old Hollywood Motto…
'Don't be boring'
Contact us today to see how our Kickstarter Video packages can help you make your Kickstarter campaign  a smashing success!
Up to 50% financing available.
See what our previous clients have to say about creating a kickstarter video with Mabinogi.